Biography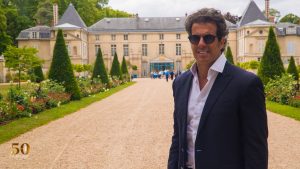 Álvaro Garnero is a Brazilian businessman trained inSan Diego Stateand with an MBA inNational University.

His entire academic background was in the United States, where he lived for 15 years and became a father. When he returned to Brazil, Álvaro invested in entertainment: there were countless restaurants and nightclubs Music Cafe, the first dining club of Brazil and a brand that solidified the name of Álvaro on the Brazilian night.
In 2007 began to present the program 50 by 1, where he was able to show his charisma, all his knowledge and his ease in transiting in diverse environments, from the most luxurious to the most popular, in different countries of the world. The program, which would initially be a documentary with 50 episodes eventually became a reference for national tourism.
Today Álvaro Garnero unfolds in several roles: introduces 50 by 1, successfully inserted as a frame of the Spectacular Sunday, it exercises strategic functions in BrasilInvest, is a member of the Café de la Musique brand, with numerous Beach Clubs in Brazil and two hotels, is also a partner in the Café Society, with the composer Seu Jorge and the businessman Dinho Diniz. In addition, since 2016 Álvaro Garnero commands with José Victor Oliva theCabin No. 1in the Sambódromo - the most disputed box of the Brazilian Carnival.